September 21st, 2014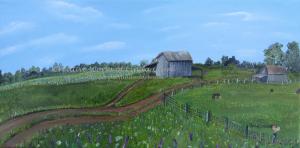 Flue–cured tobacco barns were once found everywhere the crop was grown and are important in the heritage of the rural landscape of Southside Virginia. Many such barns were built after the Civil War, but some date back as far as the Revolutionary War.
Every tobacco barn in a field is unique for its importance in the memories and history of the families who once depended on it for their livelihood. Families came together and worked hard to raise tobacco for the benefit of each member, whether used for food, housing, or other family necessities, such as the children's new shoes or clothes.
Sadly, the disappearing tobacco barns are slowly caving in and falling apart from lack of maintenance, now that they are no longer used. My painting, Fading Tobacco Barns, represents my love and respect for the heritage of these sadly fading barns, and the way of life they represent.
My grandfather was a tobacco farmer, and this painting portrays my memories of the barns on my grandfather's farm. I feel each fading barn deserves to be remembered and preserved for its importance in the livelihood of the family, even if its preservation comes only in the form of a painting. Do you have personal memories of tobacco farming in your past?

"Fading Tobacco Barns", is an oil painting on cotton canvas measuring 16 X 8 inches, was completed in the spring of 2014. Acid free print were available shortly after.